Plastex Plastic Allows you to
Easily Duplicate Complex Plasitc Parts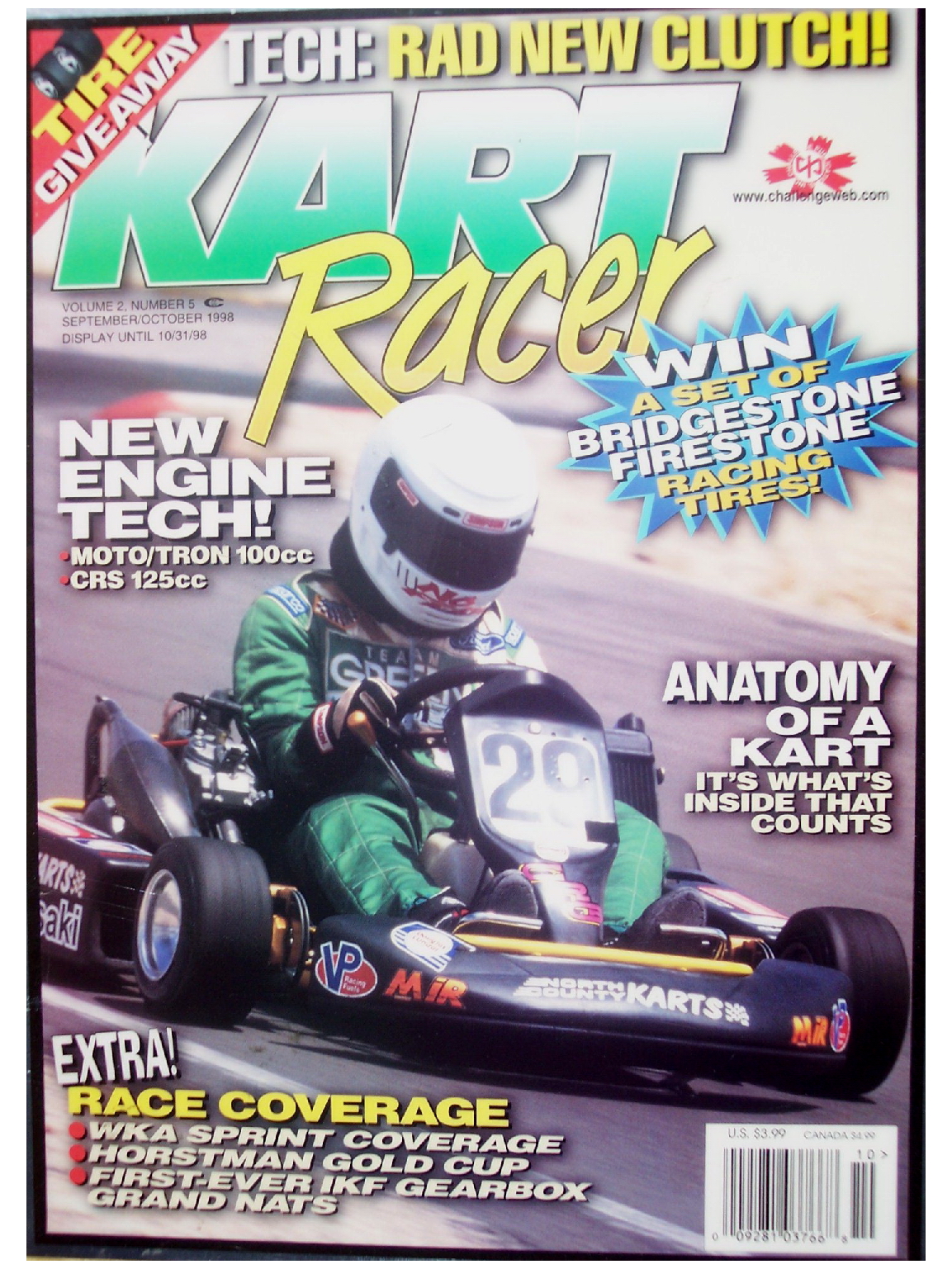 Car Toy Collectables Magazine




PLASTEX ALLOWS YOU TO EASILY DUPLICATE COMPLTEX PARTS - REPLICANT!




EVER FIND YOURSELF LOOKING AT A PART AND WISH YOU COULD WELD PLASTIC TO FINISH OFF THAT CREACKED FAIRING YOU GOT SECOND-HAND? WELL, PLASTEX IS THE PRODUCT YOU'VE BEEN LOOKING FOR. IT'S PERFECT FOR CRACK REPAIR, AND CAN ALSO REPLICATE SMALL PARTS EASILY, FORM NEW TABS, THREADS, OR SHAPES. PLASTEX IS A TWO-PART COMPOUND (A POWDER AND LIQUID CATALYST) THAT IS REALLY HANDY TO HAVE IN YOUR WORKSHOP. IT SETS UP IN ABOUT A HALF HOUR, AND IS AVAILABLE IN BLACK CLEAR, OR WHITE. THE PRODUCT CAN BE USED WITH METAL, PLASTIC, OR WOOD TO EITHER BOND IT TOGETHER, MOR MAKE RESIN DUPLICATES OF SMALL PARTS. IN FACT, ABOUT THE ONLY MATERIALS IT WON'T ADHERE TO ARE POLYETHYLENE OR POLYPROPYLENE.




AS THE PHOTOS SHOW, THE PROCESS IS FAIRLY EAST TO PEREFORM. IN THIS CASE, A CRACK IS BEING EASILY REPAIRED. KITS OF THE MATERIAL, INCLUDING THE MOLDING BAR, ARE AVAILABLE IN SMALL ($14.95) OR LARGER ($34.95) SIZES. WITH A LITTLE IMAGINATION, YOU CAN EASILY REPAIR DAMAGED OR CARCKED FLAGES, TABS, OR SCREW THREADS WITH THE STUFF. WE FOUND IT HANDY FOR MANY LITTLE CHORES AROUND THE WORK ROOM HERE AT KART RACER.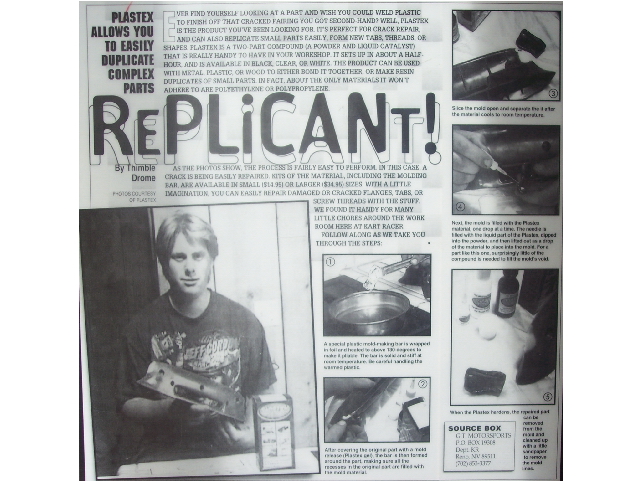 FOLLOW ALONG AS WE TAKE YOU THROUGH THE STEPS: 
1. A special plastic mold-making car is wrapped in foil and heated to above 130-degrees to make it pliable. The bar is solid and stiff at room temperature. Be careful handling the warmed plastic.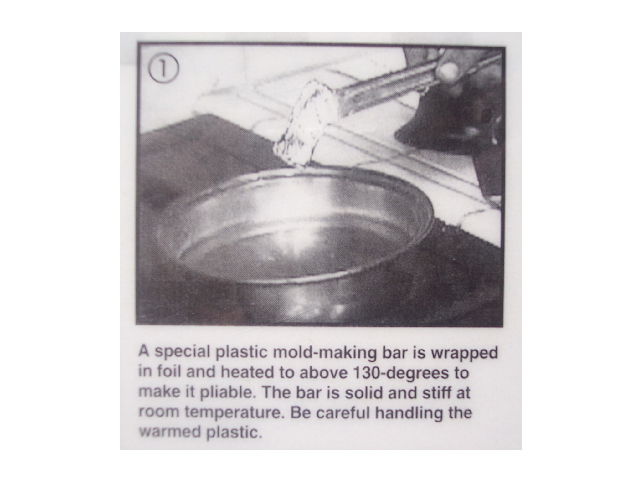 2. After covering the original part with a mold release (Plastex gel), the bar is then formed around the part, making sure all the recesses in the original part are filled with the mold material.
3. Slice the mold open and separate it after the material cools to room temperature.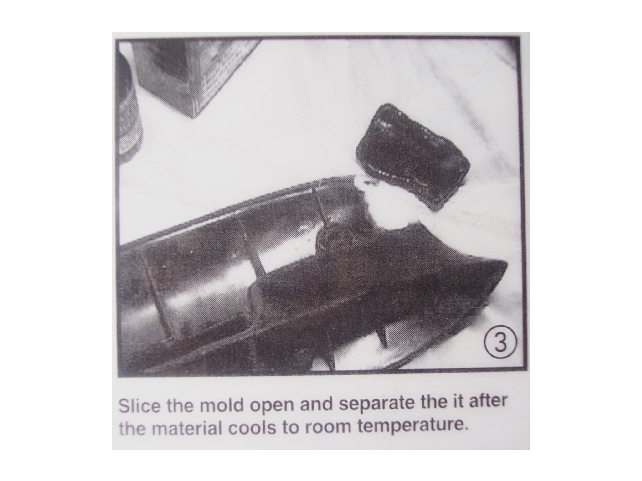 4. Next, the mold is filled with Plastex material, one drop at a time. The needle is filled with the liquid part of Plastex, dipped into the powder, and then lifted out as a drop of the material to place into the mold. For a part like his one, surprisingly little of the compound is needed to fill the mold's void.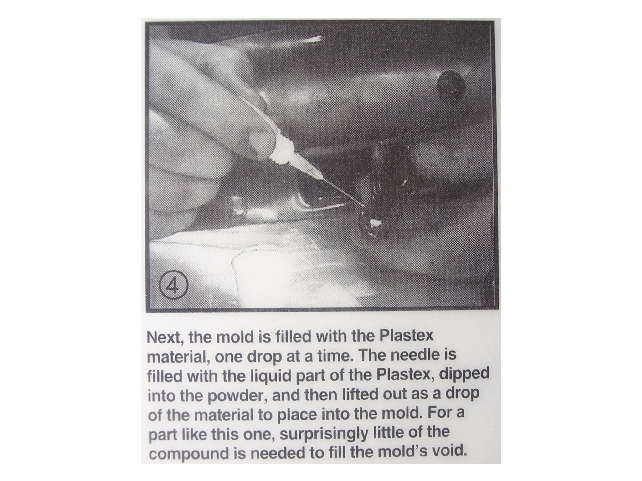 5. When the Plastex hardens, the repaired part of can be removed from the mold and cleaned up with a little sandpaper to remove the mold lines.